News
New Mercedes-Benz Actros ready to order
With a total investment of more than €1 billion for the vehicle's complete development, the new Mercedes-Benz Actros is the first truck to hit the road with a design that's consistently in line with Euro VI requirements.
In addition, more than €1 billion was invested in production locations and equipment and tools for the model. The new long-distance haulage truck will become available for ordering on July 1, 2011. Economy, secure handling, and driver comfort were the top priorities when the new truck was developed from the ground up. The vehicle has a new range of cabs, new engines, a new chassis, and a new design featuring eye-catching lighting units. The design gives the truck a powerful and dynamic look that also reveals the outstanding aerodynamic fine-tuning carried out during the 2,600 hours the model spent in the wind tunnel. The external dimensions of the cabs promise generous interior space for drivers to work, live, and relax in.
Depending on its exhaust classification, the new Actros boasts either three to four percent (Euro VI), or six to seven percent (Euro V) lower diesel consumption than the current Actros MP3. This will likely make the new Actros the Euro VI long-distance haulage truck that most efficiently converts energy from diesel fuel into transportation performance in Europe. To achieve this ambitious goal, Daimler is using the new powertrain generation from Mannheim for the Actros. The powertrain's ultramodern technology, which includes the unique X-Pulse injection system, as well as exhaust gas recirculation, exhaust gas treatment with BlueTec diesel technology, and a closed particulate filter, has been tried and tested by American and Japanese Daimler Trucks customers in more than 70,000 vehicles. Its reliability and great fuel economy have already helped Daimler brands to achieve major increases in market share in those countries.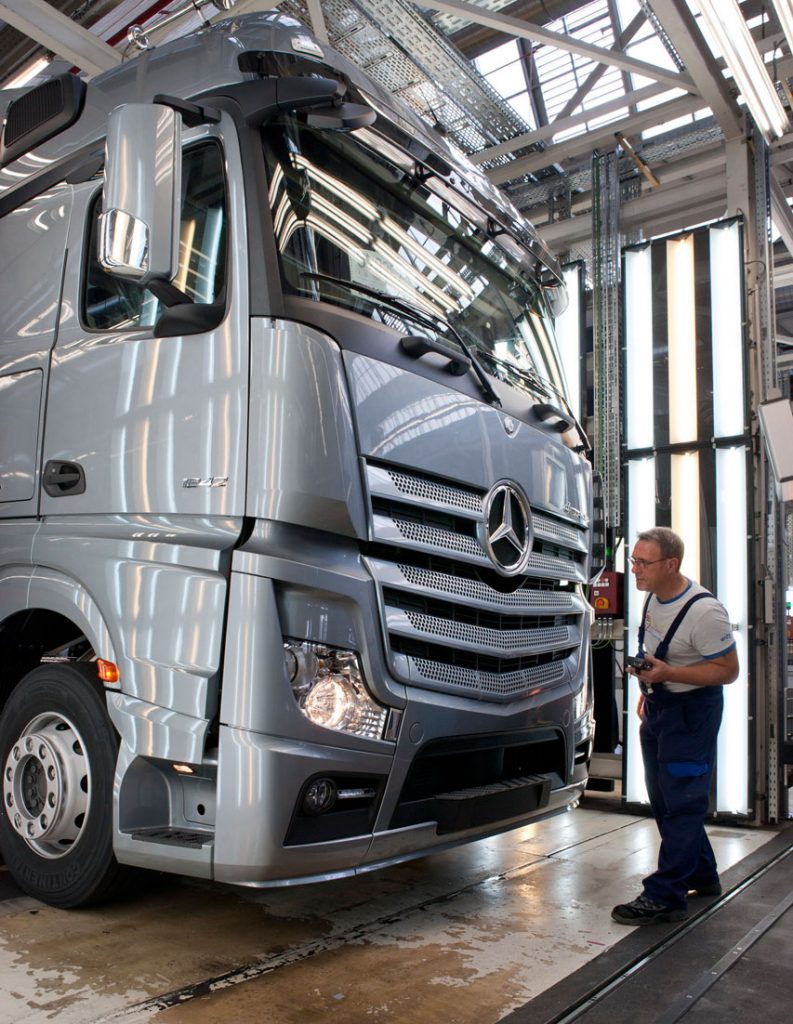 Superior and safe handling is ensured in the new Actros by a wider and more torsionally rigid frame designed especially for road vehicles, new axle steering mechanisms, and a new steering system. Mercedes-Benz is also opening up a new chapter in safety systems through the introduction to the new Actros of the unique Proximity Control Assist system with a stop-and-go function that now automatically controls acceleration and braking in traffic jams – which makes things a lot easier when driving through cities or in stop-and-go traffic on highways. The new truck program consists of semitrailer tractors and flatbed trucks in four output classes ranging from 310 kW (421 hp) to 375 kW (510 hp) and from 2,100 to 2,500 Nm of torque. The new drive system comes with either Euro VI technology or else with Euro V. There are seven cab variants with widths ranging from 2.3 to 2.5 meters; five of these come with level floors the whole way through. Up to 11 different wheelbases are available – for example, with the two-axle chassis-cab.