News
AvtoKrAZ made modern fire-fighting vehicle for mining company
The largest in Ukraine producer and exporter of iron ore pellets – the Poltava's ore mining and processing enterprise, which uses modern technologies, has ordered to "AvtoKrAZ", the biggest in Ukraine produced of heavy duty trucks, ordered a new fire truck for its mining factory.
The new fire truck KrAZ N23.2 (AC-13-70) was created in collaboration with the 'Titan' company – the Ukrainian designer and manufacturer of fire fighting, rescue vehicles and equipment. The vehicle was designed for the delivery of a fire fighting crew, as well as technical and rescue equipment and fire extinguishers.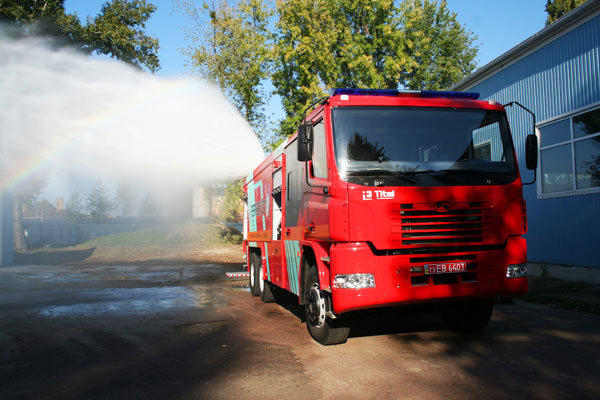 The new cabover KrAZ N23.2 chassis became the base for this fire truck. It is equipped with the Yaroslavl engine JAMZ-6501.10 (Euro 3), with the power of 362 hp, single-plate clutch MFZ 430, and transmission 9JS200TA. Behind the double place driver's cabin there is a special compartment for four fighting crew members, with breathing apparatus behind the seats, which is equipped with a portable radio, first-aid kits and personal protective equipment. The new fire truck KrAZ N23.2 (AC-13-70) is equipped with a variety of rescue equipment, including hydraulic and pneumatic instruments, pumps, chain saws, turbofan, as well other equipment.